The Blackwell Kitchen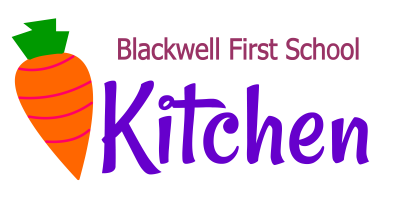 At Blackwell First School, we have our own school kitchen, 'The Blackwell Kitchen', run by our school cook. The kitchen provides healthy, home cooked meals each day from ingredients sourced from local suppliers, such as Warwicks Butchers in Barnt Green.
The aims of 'The Blackwell Kitchen' are:
• Provide children and adults with a healthy hot meal each day and as a result enable them to learn well in school
• Encourage children to try new foods and widen their food experiences, developing life skills
• Develop table manners and social skills as part of whole child development (teachers will eat with the children and support this development)
Children in Reception and Years 1 and 2 all receive free school meals (infant universal) each day and children in Years 3 and 4 can purchase school meals by ordering in advance. Order forms and menus are available from the school office. Packed lunches will be provided for Reception- Year 2 and any children purchasing meals on days when educational visits take place.
Pupil Premium (Free School meals, not infant universal meals)
The system uses the same portal you used to apply for your child's school place. You should use your admission application login details on the Citizen Portal to apply for Free School Meals. You can access the portal using this link. If you have any questions or comments about this new process, please contact the Free School Meal team via This email address is being protected from spambots. You need JavaScript enabled to view it..
If your child has been advised by their GP or a Health Care Professional to follow a special diet, please contact us as we can often accomodate dietary needs. Any further information is available on the Food Standards Website www.schoolfoodplan.com
Click here for the Autumn 2 2023 menu.
Click here for the Autumn 2 2023 vegetarian menu.
Click here for the allergen chart for The Blackwell Kitchen Tuck Shop. Click here for Forest Friends.
Click here for the allergen chart for The Blackwell Kitchen Hot Meals.
Click here to print off a Food Allergy record form. Please complete and return to the school office if your child has an allergy.