Forest Friends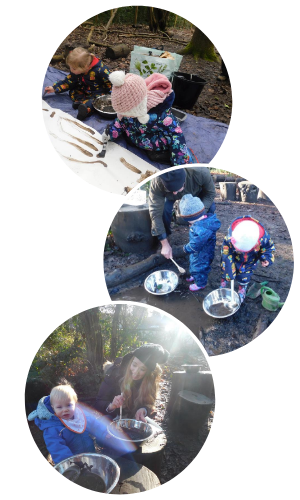 At Blackwell First School Forest School Nursery, we promote the outdoors from a young age. We have a 'Forest Friends' group for anyone from birth to three to attend, led by a qualified teacher and 'Forest School' trained member of the Blackwell teaching team.
Mrs Hipkiss loves to welcome toddlers along to experience our Forest School, play with other children in the outdoors and learn to enjoy lots of activities during all four seasons. Come rain or shine sessions take place. There is a tasty treat for everyone from our 'Blackwell Kitchen' at the end of the session back at school.
For further information contact This email address is being protected from spambots. You need JavaScript enabled to view it.
...the whole idea of FF for such young children is excellent. The session is run to an extremely high standard with empathy for families , structure, safety and the ethos of Forest School is well portrayed. Each session is fun for all.
...the children love Liz , she always has time for each individual child and carer. It is clear that she knows and works to each child's strengths and challenges them to continue in tasks with new slants on what they are doing.
...the rules and safety of the woods are always embedded in each session with care for the environment and changes to the season pointed out weekly.
...each session has tips for families in child development eg early maths and reading skills. Parents and carers appreciate advice given and the fact that Liz is so approachable.
...the range of activities on offer each week is great. There are the old favourites, mud and water being one but there is always something new for little ones to try.
...parents frequently remark at how well Liz runs and interacts with everyone making each family comfortable.
(Parent comments)